September 2021 – Clarence, NY
This was the first of its kind for us at Waterscapes of WNY. The homeowner had an existing spring fed pond that they used as a recreational area where they swam, boated, and played in the sand. The homeowner had created a sitting area underneath a pergola with a fire pit nearby. They contacted us to help create this area into an outdoor oasis in their own backyard.

The homeowners expressed their interest in adding a waterfalls to the pond using the existing well located a few feet from the waters edge, hidden amongst overgrown weeds.

They also wanted to create an area to entertain guests and have meals underneath the pergola.
Another Collaboration with Lattimer Inc.
This project was a perfect opportunity to work with Lattimer Inc. We set a meeting with the homeowners and began the design process. The project expanded to include landscape lighting, a raised bar/table top, and a retaining wall to hold up the sand so that the paver patio will hold up for years to come. Lattimer Inc. handled all of the hardscape features and we handled the waterfalls!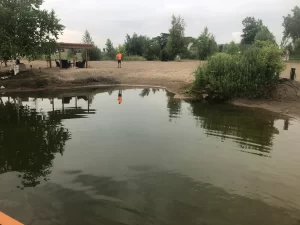 Creative Freedom
The homeowner knew they wanted a waterfalls and had a few inspirational photos they liked, but they didn't know what exactly it would look like. After a few more conversations, we all decided they knew they water to see and hear the water falls and wanted it as the center piece for the whole project! From there we were set free to our own creativity.
After doing quick math we knew that the well wouldn't produce enough water flow. We went with a 10,000 gph pump inside a pump vault, which is enough to create the desired Niagara Falls effect. We used the natural slope of the work area to create three 2′ drops, each averaging 3-4′ wide. That is Alot of Water Movement!

Due to the size and scope of the project we brought in some of our equipment to make light work of the heavy rocks

Materials were dropped right next to the work area, which increases efficiency.
… And The Work Begins!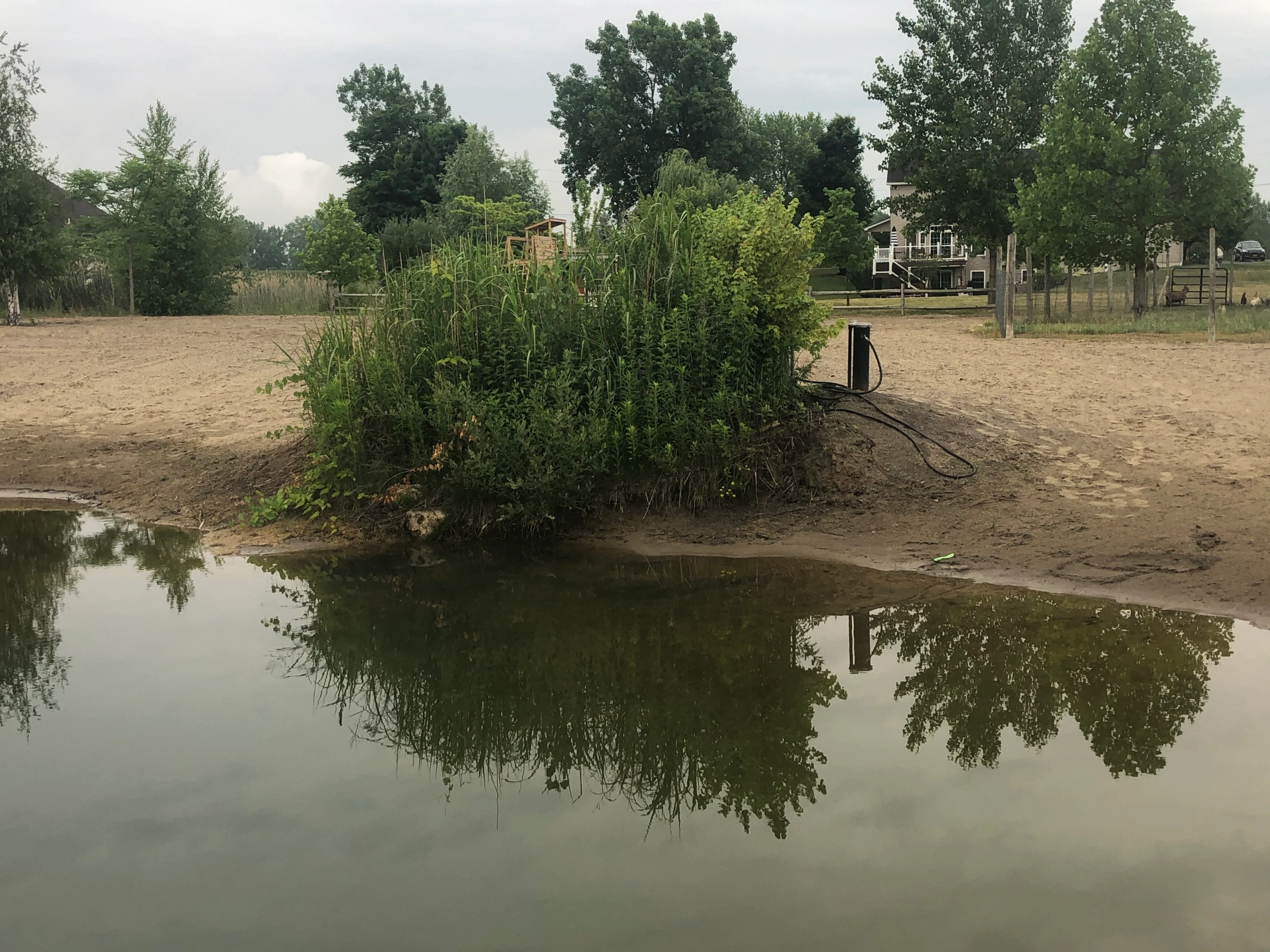 In the end the project only took a couple days to complete the waterfalls. When the homeowners came out and we turned it on for the first time they were in absolute awe! They didn't know what they were expecting to see, but this was way better than they thought it would be. Lattimer Inc. once again nailed it with their work on the outdoor living space.
A week or so later the homeowner updated us with news that they have been using the patio area to relax at night with a glass of wine while listening to the soothing sound of the waterfalls.