Water Feature Cleaning
"I Want Help Cleaning My Pond"
Spring Cleanings and Fall Closings are essential to maintain a happy and healthy water feature.
Keeps Fish Healthy
Improves Water Quality
Clear, Fully Functioning Filters
A Chance To Look For Potential Problems
Plant Maintenance And Optimization
Water Feature Maintenance
"I Want Help Keeping My Pond Clean All Year Round"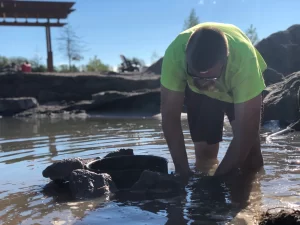 Water Feature maintenance is designed to help you do one thing: enjoy your water feature more! Choose from one of our Weekly, Bi-Weekly, or Monthly Maintenance packages.
Clean water so crystal clear you can see all of your pond
Neatly trimmed plants and no debris anywhere for a fresh look
Everything unclogged and working smoothly so your pond stays a paradise
Exploratory Drain and Clean
"My water feature has not been drained and cleaned recently and is in unknown condition"
Understanding how a backyard pond operates or if it's even healthy is not common knowledge, trust us. However, if it is part of your home, you shouldn't feel left in the dark. We'd love to help.
We'll thoroughly clean your pond resulting in crystal clear water
We fully inspect it to determine the health of your water feature
At the end, we'll provide an educational walk-through so you know how it all works