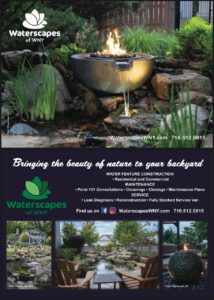 Hot Off the Press!
Our new postcards are in! This is our first round of grass roots advertisement aiming at word of mouth publicity. We are looking to get our name and product in front of every owner of a water feature, perspective pond and waterfall customer, and everyone in-between. We service all of WNY and beyond! We offer Water Feature Construction, Maintenance, and Service. We offer customized Waterscape designs and personalized construction and maintenance packages for each unique acreage pond, koi pond and waterfalls.
OUR ASK… of you is to help us spread the word. If you or anyone you know is looking for, is thinking about, or already owns a water feature tell them about us. Whether they have a service provider already, purchased a house with a water feature, or are tired of doing it themselves; we would love to work with them!
Help us spread the word by sharing this post, sending our information out, or by contacting us with any questions or concerns.
WaterscapesofWNY@gmail.com
(716) 512-0815